Disagreement among experts regarding methodology does not necessitate exclusion under Daubert; Nursing expert witness testimony on adequate staffing levels survives challenge
Posted on October 5, 2023 by ewp_staff_writer
This case involved a putative class action lawsuit brought by Plaintiff Gail Parrish against Defendant Gordon Lane Healthcare, LLC (Gordon Lane), which operated a long-term skilled nursing facility where Parrish resided. Parrish, by and through his daughter and successor in interest, Monica Parrish, alleged that Gordon Lane failed to adequately staff the facility in violation of California law. Specifically, Parrish claimed that Gordon Lane gave residents an admission agreement stating it would provide adequate staffing, but concealed the fact that staffing was inadequate. 
Parrish filed this action in the Superior Court of the State of California on August 17, 2022. On September 29, 2022, Gordon Lane removed the action to federal court. On November 15, 2022, Parrish filed the complaint against Gordon Lane and several other Defendants, requesting injunctive and monetary relief. Defendants moved to dismiss the Complaint. The Court dismissed the claims as to all Defendants except Gordon Lane, and it struck Parrish's prayer for injunctive relief. The claims for monetary relief against Gordon Lane remain.
Parrish asserted two claims against Gordon Lane: (1) violation of California's Consumer Legal Remedies Act (CLRA) by making misrepresentations in the admission agreement and concealing inadequate staffing levels; and (2) violation of California Health and Safety Code Section 1430(b) for violating residents' rights through inadequate staffing.
Parrish moved to certify three classes under Federal Rule of Civil Procedure 23(a) and 23(b)(3) and one of the classes, alternatively, under Rule 23(b)(2), consisting of Gordon Lane residents within the three years prior to the filing of the complaint. In support, Parrish offered expert testimony from Dr. Charlene Ann Harrington on determining adequate staffing levels. Gordon Lane moved to exclude Harrington's testimony and opposed class certification, arguing Parrish lacked Article III standing and most potential class members, including Parrish, signed arbitration agreements waiving participation in class actions.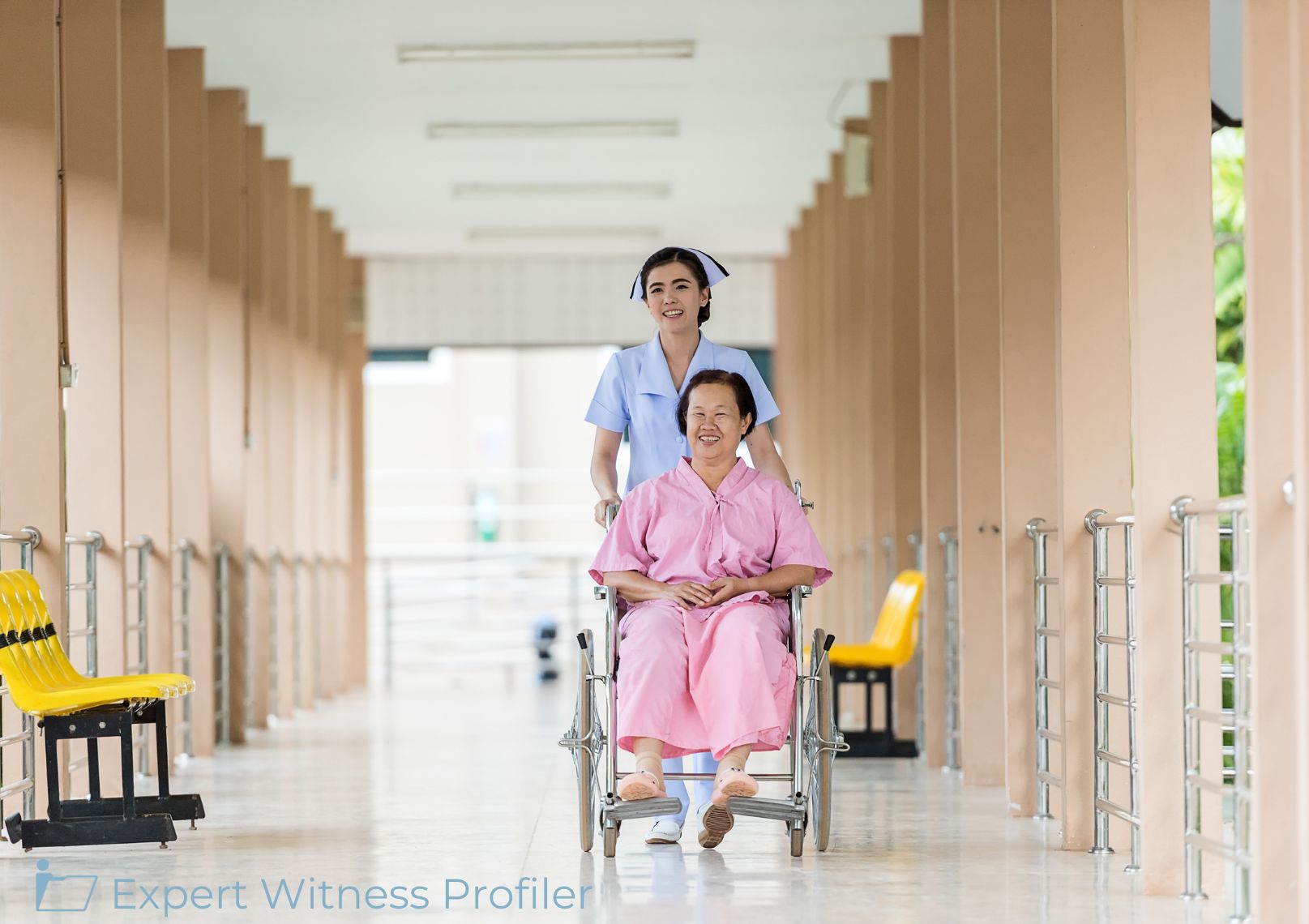 Nursing Expert Witness
Charlene Ann Harrington is a Professor Emerita of Sociology and Nursing, Department of Social & Behavioral Sciences, School of Nursing at the University of California, San Francisco ("UCSF"). She earned her Bachelor of Science in Nursing from the University of Kansas, her Master's degree in Community Health Nursing from the University of Washington, and her joint Ph.D. in Sociology and Higher Education from the University of California, Berkeley. She has been a Registered Nurse in California since 1970. She has held several positions relevant to nursing home care over the course of her career.
Discussions by the Court
Gordon Lane moved to exclude the expert opinion of Charlene Harrington, who proposed to analyze the adequacy of staffing levels at Gordon Lane's facility. In her declaration, Dr. Harrington outlined her method for evaluating the sufficiency of staffing levels at the Gordon Lane facility. Her approach involved four steps: first, determining the collective acuity level of residents at the facility; second, evaluating the actual staffing levels per resident per day of the facility; third, comparing these levels with recognized staffing requirements and standards; and finally, determining the overall adequacy of facility nurse staffing levels. Dr. Harrington's analysis relied on data from the Centers for Medicare and Medicaid Services (CMS), Gordon Lane's staffing reports, federal and state regulations, and her extensive experience. Notably, she used "Resource Utilization Group" (RUG) scores which is a facility-wide measure of acuity, derived from data submitted using the Minimum Data Set (MDS) form to CMS. Her method involved converting Gordon Lane's RUG scores into expected staffing hours and comparing them to actual staffing hours to ascertain if the facility met adequacy standards.
The Court explained that the standard for evaluating expert testimony in support of class certification under Daubert and Ninth Circuit precedent do not require the Courts to conduct a thorough analysis of admissibility. Rather, the testimony must be sufficiently reliable and relevant such that it can help in developing a sound opinion on the class certification requirements. To sum it up, Daubert stresses on the basis of what the experts have to say instead of what they actually say.
Gordon Lane insisted on a different acuity scoring system—the "Patient Driven Payment Model" or "PPDM"— which was used "for all but two weeks of the proposed class period." Dr. Harrington, however, contended that she could convert PDPM scores to RUG scores using a "crosswalk" published by CMS, and derive the number of necessary staffing hours from there.
Gordon Lane first argued Harrington's method of converting RUG scores into time measurements should be excluded because it was not mandated by federal or state governments to calculate required staffing levels. The Court found this unpersuasive. The CMS State Operations Manual did not consist of an objective formula for determining adequate staffing levels. The lack of a governmental mandate did not make Harrington's methodology unreliable.
Next, Gordon Lane contended there are various methods for measuring acuity and experts sincerely disagree on the best approach. The Court stated that disagreement among experts regarding methodology does not necessitate exclusion under Daubert. The Court must analyze the basis for the expert's opinion, not simply differing expert views. 
Gordon Lane also asserted Harrington impermissibly relied on her subjective judgment and experience. However, the Court found reliance on personal knowledge and experience is permissible for specialized testimony under Ninth Circuit precedent. Harrington's extensive, relevant experience lent reliability to her conclusions.
Ultimately, the Court was satisfied that Harrington employed a reliable methodology incorporating government data, facility records, regulations, and her expertise. Her opinion was relevant since the claims relied on Gordon Lane's alleged understaffing. Though not applying Daubert's admissibility requirements strictly, the Court found Harrington's testimony sufficiently reliable and relevant to the issues at hand. Therefore, the Court denied Gordon Lane's motion to exclude.
Held
The Court denied Gordon Lane's motion to exclude, finding Harrington's methodology reliable and relevant. The Court also found Parrish had Article III standing. However, the Court denied class certification because Gordon Lane correctly pointed out that proposed class definitions were impermissible because certification would require this Court to conduct an individual assessment of every potential class member to determine 1) whether they executed the arbitration agreement, and 2) whether the arbitration agreement was valid and binding as to that individual class member. Not only would such a determination defeat the superiority of proceeding as a class action, but it would also exceed the Court's authority.
The Court has not arrived on an outcome for this case since the remaining issues involved in this case still await resolution.
Key Takeaways
This case demonstrates important points about using expert witness testimony in support of a class certification motion. First, lack of a governmental mandate for an expert's methodology need not necessarily render it unreliable as long as the expert can point to appropriate data sources, regulations, and experience reliably incorporated in the methodology. Second, disagreement among experts did not automatically warrant exclusion. The judge must evaluate the basis for the expert's particular methodology. Third, an expert can rely on judgment and experience, especially for specialized testimony, if they have relevant background. Finally, while class certification should entail rigorous analysis, poking holes in the merits of an expert's underlying conclusions sometimes goes beyond the appropriate level of inquiry.
Posted In: Expert Challenges, Nursing Expert Witness
Tagged In: Class Certification, Daubert Standard, Expert Testimony, Relevant, Reliable